Please share your details for booking and we will be in touch with you shortly.
Submitting this form is the easiest way to contact us about reserving your tour.
Book your Boating Adventure from Anywhere in the Puerto Vallarta Area!

Please talk to me, call me, let's make it personal. Let me help understand what you want. It is my pleasure and passion to make sure I maximize that experience for you and minimize your cost. I'll be here to help whenever you're ready.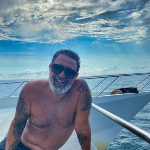 Gil Drory Owner/Founder