Sunset Cruise Puerto Vallarta
Mega Yacht Magical Sunset Show
Sail off into the sunset on Chica Locca's new Mega Yacht Magical Sunset Show!
Mega Yacht Chica Limousine Of The Sea is the most luxurious Sunset Cruise and the best way to see the beautiful Puerto Vallarta coastline at Sunset.
All Chica Locca Tours include Whale Watching for no additional charge during Whale Season (December through April).
Meeting Points:
Paradise Village Public Pier in Nuevo Vallarta – View Map
Or
Sayulita Chica Locca Office – View Map
 Adult MX$1,300 | Child MX$900 | Toddlers 3 and under Free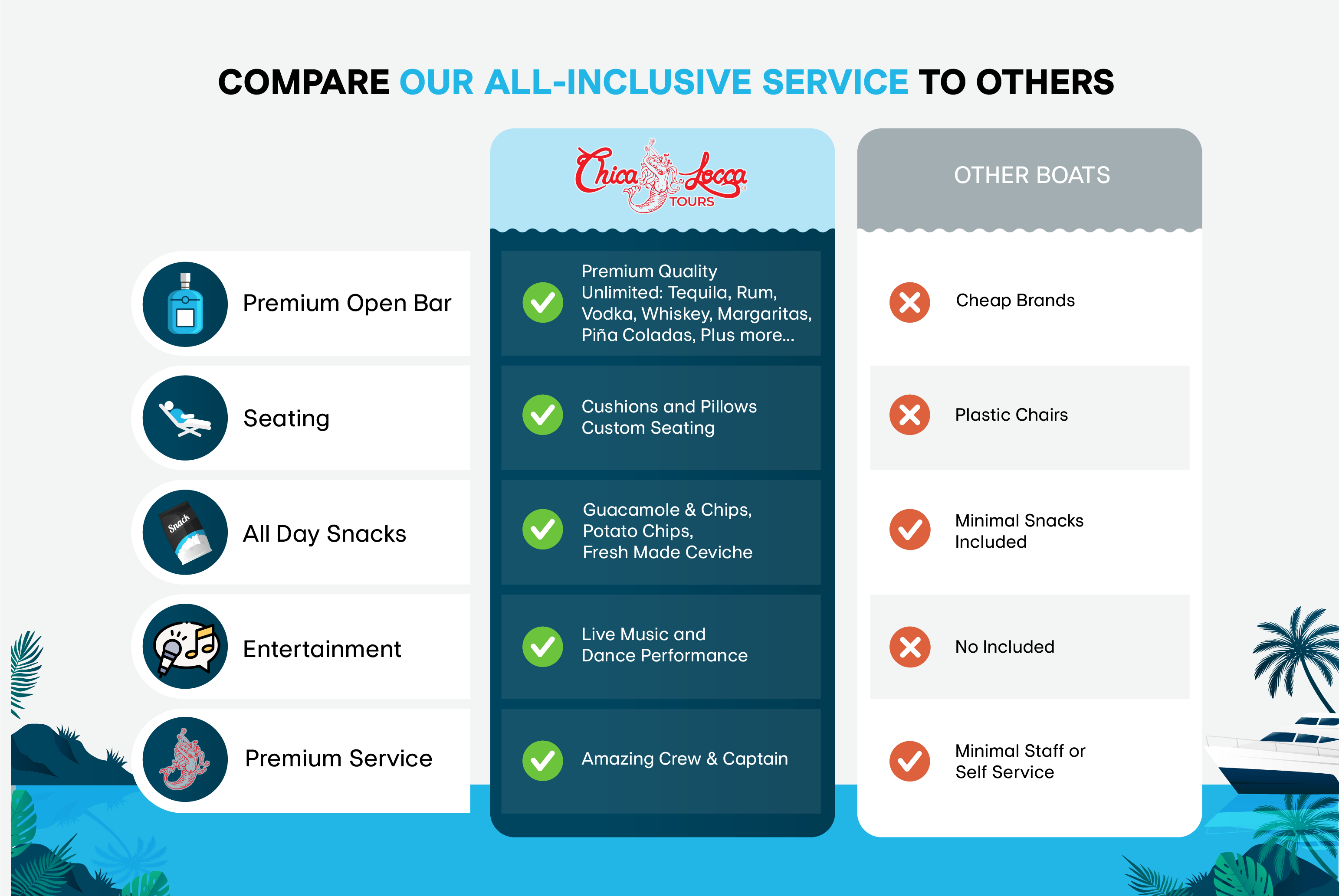 Everything Is All-Inclusive
What does that mean? Enjoy our premium open bar that includes an enormous selection of drinks: water, soda, coffee, juice, smoothies, beer, wine, tequila, cocktails, Piña Coladas, Margaritas; whatever you can think of, whatever you choose to drink. Chica Locca only serves premium brands: Compadre, Bacardi, Captain Morgan, Malibu, Baileys, Smirnoff, Jack Daniel's, Champagne, and every mix you could want. Only the best for our customers!
We have all day snacks which include our famous guacamole, chips and potato chips.
Live Music & Dance Performance
The Magical Sunset Show was specially created for Chica Locca Tours and features lives music, dancing, acrobatics and so much more!
Mega Yacht Magical Sunset Show
Photo Gallery
Puerto Vallarta Sunset Cruise
Sail off into the sunset with Chica Locca. Come experience the spectacular views of Banderas Bay at Sunset.
Lounge in the late afternoon sun as you enjoy the Live Music and Dance Performance. Our amazing crew will always make sure your drink is full and the entertainers will have you smiling and cheering for more!
There is something magical about cruising across the bay in the late afternoon. Come experience a spectacular sunset tour with us and bask in the golden warmth of the setting sun.
Meeting Point:
This tour has 2 different meeting points, which is most convenient for you?
Paradise Village Public Pier in Nuevo Vallarta 
(Recommended Meeting Point)
Click Here to See The Map
If you are staying in the Hotel Zone Puerto Vallarta, Marina Vallarta, Nuevo Vallarta or surrounding areas, choose this meeting point.
Staying in Sayulita?
Click Here to See The Map for Chica Locca Tours Sayulita Office
If you are staying in Sayulita, transportation is provided from Sayulita to Paradise Village.
Looking for a daytime tour option?
Highlights
All Inclusive!

Live Music & Dance Performance

Experience the Spectacular Puerto Vallarta Sunset

Snacks include: Ceviche, Guacamole, Potato Chips

Premium Open Bar
Frequently Asked Questions
Is the Tour recommended for Families and Children?
Are there bathrooms on the boat?
Yes, the Chica Limousine is equipped with 3 bathrooms for your comfort.
How big is the boat? How many people fit?
Do you have Private Tour Options available?
Are pictures included?
No, pictures are not included. Be sure to add one of our professional photographer photo packages when booking your tour to receive a discount and our lowest price.
Is Transportation Included?
If you are staying in Sayulita, we have a complimentary shuttle that leaves from our Sayulita Office Location 1 hour before the tour.
If you are staying in a different location, you will need to arrange transportation to meet the boat at the marina. We are happy to assist you to arrange transportation, we have all of the best local transportation contacts. Please let us know if you would like us to arrange transportation for you.
What Marina does the boat leave from?
Join our Mega Yacht Magical Sunset Show
Contact Us With Questions
Please talk to me, call me, let's make it personal. Let me help understand what you want. It is my pleasure and passion to make sure I maximize that experience for you and minimize your cost. I'll be here to help whenever you're ready.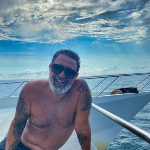 Gil Drory Owner/Founder
Don't Just Take Our Word For It
Highly Rated Tours

Monica G
August 22, 2022.
Verified
Great experience Great experience! Gil and the crew are the best! Ideal for couples and friends! Ask for the entrance to Hidden Island. It's extra cost, but it worth it.

daniel s
August 20, 2022.
Verified
Boat Tour Enjoyable day visiting the Marietta Islands which are a must see! Just know while snorkeling is advertised, it's not really worth it if you're experienced. They make you wear a life preserver and don't let you use fins or mask at the first stop, (or if you pay extra to visit Hidden Beach… no go there as well). Hidden Beach was expensive but really cool. On the last snorkeling stop, you're not allowed to swim below the surface and same life preserver rule. Overall, fun day though. Decent food, lots of alcohol, music, great staff…shout out to Dana!

Verified
Tequila Great people....Great crew...Food and drink were awesome..All in all a great experience. We all had fun in the sun .

Verified
Hospitable boat trip We had a great day on our boat tour! We swam, snorkeled, and sun bathed all day. The crew is extremely hospitable and hospitable. The lunch was delicious and you get unlimited drinks!

Viviane G
August 20, 2022.
Verified
Best boat tour in Puerto Vallarta Had the best birthday celebration on the boat. The staff and owner Gil were all attentive and so much fun. The DJ was an added bonus. Plenty of water activities, places to sit in sun/shade, food&drinks, and overall a very fun day. Would do this again!

Verified
Increíble, divertido y super amable. Desde que subes al catamarán es una experiencia, es espacioso, cómodo y seguro, todos los chicos son muy amables y te ayudan en todo momento, las actividades son muy divertidas y la convivencia es increíble. Todo un día de diversion, super recomendable!
Verified
Fun Tour! We had a lot of fun renting their catamaran for a 5-hr all inclusive tour. Staff is very attentive, accommodating, and hardworking and made us feel very well taken care of. Hats off to them for giving us a very enjoyable time in PV!

vanessa K
August 19, 2022.
Verified
Amazing Catamaran Experience! Amazing!! If you're a breakfast person I do suggest you eat prior as they only serve fruit and a little muffin. Lunch is delicious! The activities are great and the crew will not only take care of you, they'll make you feel like you're in a party the entire time. We are definitely coming back and bringing our family with us. Highly recommend for those that love the water and a good time.
Ashley B
August 19, 2022.
Verified
Vacation with friends Such a fun experience! We had the best time ever. Thank you for all the amazing photos and great drinks.

Stephanie M
August 19, 2022.
Verified
Great fun, great value. A perfect day on the water with a little something for everybody! We took our 16 and 20 year old daughters and had a great time. The staff entertained nonstop and we even saw dolphins! Great drinks and food (accommodated vegetarians) and fun water toys to make the amazing beach stop even more fun! Excellent value IMO.The boat was diverse - a 50th b-day group ready to party, a pregnant couple that got some excellent photos, families with kids. We all did our own thing but I'm sure everyone on our boat would say to book this!